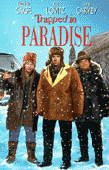 Trapped in Paradise

Sometimes Paradise Isn't All It's Cracked Up To Be!
Bill Firpo (Nicolas Cage) is not having a good Christmas Eve. Just as he's getting his life back on track, his two great weaknesses show up on his New York City doorstep: brothers Dave (Jon Lovitz), a compulsive liar, and Alvin (Dana Carvey), the king of kleptomaniacs. And soon-against his better judgement-he's off to Pennsylvania in a stolen car. Their destination: the sleepy, snow-capped town of Paradise and the cool quarter million dollars that sits in its pretty-as-a-picture bank. But for these three cracked criminals even a bank iwth a sleeping security guard and disconnected video system isn't a sure thing! While the trio somehow manages to clear out the vaults without shooting themselves in the foot, things fall apark quickly. Alvin drives their getaway car off an ice-covered bridge, and the Firpos soon find themselves Trapped In Paradise! As Bill, Dave and Alvin stumble through this winter wonderland with sacks full of cash, they're faced with bigger obstacle than an army of police and F.B.I. agents. The citizens of Paradise are slowly drowning them in hospitality. Whether it's a hot meal or a warm coat, the kindly townspeople open their hearts and their homes to these three befuddled strangers. And when kindess starts to melt the Firpos' cold hearts, they begin to realize that not even $250,000 can buy happiness.
The story of a town that gave so much...
Even these guys couldn't take anymore.
Trapped in Paradise (1994)
Director: George Gallo
Starring: Nicolas Cage / Jon Lovitz / Mädchen Amick
Production: 20th Century Fox
Distributor: Pacific Title
Country: US Genre: Adventure / Sci-Fi
Trapped in Paradise [LD US]
Screen: 2.35:1 Letterbox
Audio: Digital Sound - Dolby Surround
Language: English CC