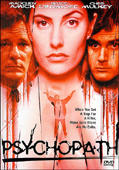 Twist of Fate

Catching him was their first mistake. Letting him out was their last...

Attorney Rachel McGuire (Madchen Amick) is tracking a serial killer whose victims include female law students -- and her former roommate. But someone has future plans for the killer, and he will do anything he can to ensure his freedom. Only Rachel, with her intimate knowledge of the killer's crimes, can decifer the web of deceit. But first, she must set the trap. And she's game -- if they don't get to her first.


A beautiful attorney's hunt for a serial killer is frustrated by his accomplice's twisted scheme to keep the killer free at all costs. Now, she must set a trap to catch them-if they don't get to her first.

Twist of Fate (1997)
Alternative Title: Psychopath (USA: video title)
Director: Max Fischer
Starring: Mädchen Amick / Bruce Dinsmore / Chris Mulkey
Production: Allegro Films [ca]
Distributor: Avalanche Entertainment
Country: USA Length: 1:35 Genre: Thriller
Psychopath [DVD Region 1]
Features: Interactive Menus, Motion Scene Index, Cast & Crew Biography and Filmographies, Theatrical Trailer
Screen: 1.33:1 Pan&Scan Standard 4:3
Audio: Dolby Digital Stereo
Languages: English
Subtitles: Spanish