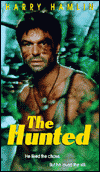 The Hunted

He liked the chase. But he loved the kill...
A plane carrying $12 million crashes in the wilderness, but the pilot and money disappear without a trace. Lured by promises of a big promotion, insurance investigator Samantha Clark (Mädchen Amick) agrees to brave the rugged pacific northwest and begin the investigation immediately. After her car is nearly totalled on the way to the crash site, Samantha resumes the investigation on foot. At a nearby cabin, she meets Doc (Harry Hamlin), a mysterious recluse who offers to take her to the site. Instead, he decides to go hunting - with samantha as his prey. Against all odds, she outsmarts her psychotic opponent and turns the tables on him, thinking the game is over. But for Doc, the game is just beginning.
Notes:
To prepare for the physicality of her role in The Hunted, which required running through the woods on uneven mountain terrain, Amick intensified her running workouts at home and kept up with her most challenging form of exercise -- being a busy working mother constantly on the go.
When a plane carrying millions of dollars crashes in the wilderness, an insurance investigator agrees to fly out to look into it.
The Hunted (1998) (TV)
Alternative Title: Die Gejagte (Germany)
Director: Stuart Cooper
Starring: Mädchen Amick / Harry Hamlin / Hannes Jaenicke
Production: New City Productions / Sat.1 [de]
Distributor: Wilshire Court
Country: Germany / USA Genre: Thriller