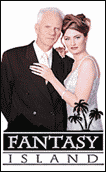 Fantasy Island

Fantasy Island (1998) premiered on ABC on September 26, 1998. This series is a remake of the 1970s Fantasy Island.
The island where dreams come true and romance awaits the willing visitor. But set in a new place and time, where things are not always as they seem... The new series, "Fantasy Island," stars some of Hollywood's most respected talent, Malcolm McDowell and Mädchen Amick.
Golden Globe nominee, Malcolm McDowell brings a new magic to the role as your host, Mr. Roarke, who has traded in his white jacket for a dark Armani suit. Ton finish the look, the suit gives a dangerous edge to it. He greets a new group of visitors on his lush property with French colonial trimmings. This where he changes his guests' lives as he fulfills their lifelong dreams: some romantic, others dangerous and all compelling. Roarke guides his guests through the most provocative adventures of their lives, but each experience has it's price, lending new meaning to the old adage to be careful what you wish for, you just might get it. The devilish Roarke's disciples and fantasy facilitators are brutish but obedient Cal, portrayed by Louis Lombardi and flighty but hyper-efficent Harry (Edward Hibbert), who Roarke's bidding and accompany him to meet each week's guests. They are taken aback when they learn that Roarke has hired another assistant, the beautiful and ethereal Ariel, played Mädchen Amick. Ariel is a spirit who can conveniently shapeshift into another person or living thing in order to implement a guest's fantasy, while providing a fascinating and sexy counterpoint to Roarke.
Ironic, since because the "Fantasy Island" crew's ultimate fantasy is to leave this lush place, to which they have been banished to serve for mysteries reasons that will come to light throughout the season. In addition to the new Fantasy Island, is rather an eerie travel agency, a dim and musty place that seems to have come from another time and exists in no particular time or space at all. At the heart of it is travel agent, Fisher (Fyvush Finkel). Fisher's name describes his job, which is to catch unsuspecting prospective guests in his net and send them off to Fantasy Island.
Fantasy Island (1998) (TV-Series: 1998-1999)
Directors: Gilbert Adler / Stephen Cragg / Michael Dinner
Starring: Malcolm McDowell / Mädchen Amick / Edward Hibbert
Production: Sonnenfeld Josephson Worldwide Entertainment
Distributor: Columbia TriStar Television
Country: USA Genre: Drama / Fantasy
EPISODE LIST: (1st Season 1998)
Originally Aired
01. Pilot
02. Superfriends
03. We're Not Worthy
04. Dying To Dance
05. Secret Self
06. Estrogen
07. Dreams
08. Handymen
09. Wishboned
10. Let Go
11. Innocent
12. The Real Thing
13. Heroes
09/26/1998
10/03/1998
10/10/1998
10/17/1998
10/24/1998
10/31/1998
11/07/1998
12/12/1998
12/19/1998
12/26/1998
01/09/1999
01/16/1999
01/23/1999