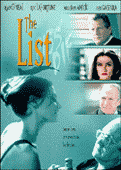 The List

Some Laws Are Meant To Be Broken...

An english film remake of Quebecois Jean-Marc Vallée's
Liste Noire
(1994).
High-class call girl Gabrielle Michelle (Madchen Amick) stages her own arrest in a scheme to blackmail her well-known clients. Her list includes respected lawyers, honorable judges and even the Governor. When she submits it as evidence in court, the presiding judge, Richard Miller (Ryan O'Neal), is thrown into a moral dilemma. He can make the list public, incriminating friends and colleagues, or he can seal the list and keep its secrets. Whatever he does, someone's going to lose and there are people willing to do anything to stay unnamed.
A gruesome murder raises the stakes to a new level. Miller is threatened and Gabrielle attacked. Then, when the detectives on the case are ordered to stop their investigation, one of them decides to continue on with Gabrielle's help. But to find a killer, they'll have to make themselves the bait.

After being arrested for solicitation, a high-class prostitute threatens to make public a list of her best clients.

The List (2000)
Director: Sylvain Guy
Starring: Mädchen Amick / Ben Gazzara / Ryan O'Neal
Production: York Entertainment / Moonstone Entertainment
Distributor: York Entertainment
Country: Canada Length: 1:33 Genre: Thriller
The List [DVD Region 1]
Features: Interactive Menus, Scene Selections, Theatrical Trailer, Star Filmographies, Behind The Scenes
Screen: 1.33:1 Pan&Scan Standard 4:3
Audio: Dolby Digital 5.1 Surround
Languages: English
Subtitles: Spanish