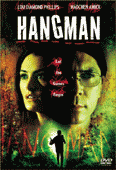 Hangman

A psychotic serial killer taunts police with a lethal game of hangman. The stakes: human life.
When the dead body of an unknown man is found in her house, it's the beginning of a horrifying odyssey for former psychiatrist Grace Mitchell (Madchen Amick). A serial killer has targeted Grace and is now brutally killing his victims every time she fails to solve a hangman puzzle that is sent over the internet.
With each new videotaped murder, the killer makes Nick Roos (Lou Diamond Phillips), the Detective who's been assigned to protect Grace and solve the case, an eyewitness and unwitting accomplice to the grisly crimes. Roos joins forced with Grace Mitchell, the psychiatrist who can help him solve the case. But as the body count rises and it becomes a race against time to find the killer before he strikes again, Nick Roos will find himself unprepared for the revelations that lie ahead.
Hangman is a tense psychological thriller that proves, when you can't breathe, you can't scream!
Hangman (2000)
Director: Ken Girotti
Starring: Mädchen Amick / Dan Lauria / Lou Diamond Phillips
Production: Mainline Releasing / Oasis Pictures [ca]
Distributor: Columbia TriStar
Country: US Length: 1:36 Genre: Thriller
Hangman [DVD Region 1]
Release Date: May 15, 2001
Features: Interactive Menus, Bonus Trailers, Filmographies
Screen: 1.33:1 Pan&Scan and 1.85:1 Anamorphic Widescreen
Audio: Dolby Digital Stereo and Dolby Digital 5.1
Languages: English, Spanish, French, Portuguese
Subtitles: English, Spanish, French, Portuguese, Chinese, Korean, Thai