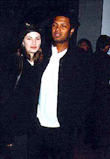 When she was sixteen years old, Mädchen launched her career. With her parents' blessing, she dropped out of school and moved to Los Angeles, where she found work as a model, and soon was appearing as a dancer in pop music videos with such artists as Julio Iglesias, Dweezil Zappa, and Rick Astley. Even at that young age, her outstanding potential was evident to show-business professionals. A member of the production crew for the Iglesias video remembers Mädchen from the audition as having "...this luminescent quality,heads over any of the many other girls".
It was during these first years among the bright lights of Hollywood that Mädchen's personal life took an important turn. She met a neighbour across the street, David Alexis, an aspiring singer and songwriter as dedicated to music as she was to acting. They would eventually marry and have two children.
Mädchen's acting life began quite modestly. First there was a 1988 episode of "
Star Trek:The Next Generation
", titled "
The Dauphin
", in which she played a shape-shifter who at one point turned into a teddy bear. Then, in 1989, she appeared in an episode of "
Baywatch
" titled "
Panic at Malibu Pier
". Her first starring role was in the 1990 low-budget TV horror movie "
I'm Dangerous Tonight
". There were also a couple of small parts in
other films
.
In 1990, Mädchen left behind forever that life of obscurity when she landed the role which would establish her as an widely-recognized actress. Director David Lynch chose her to play waitress Shelly Johnson on the TV series "
Twin Peaks
", and viewers of that cult hit soon come to love Mädchen's sensually innocent character, who endured terrible abuse at the hands of her husband, Leo.
Interviewed in the August 1992 issue of the British magazine "Empire", Mädchen told of meeting viewers who so identified her with Shelly that they expressed outrage at the indignities and injuries she had suffered and urged her to seek help. She received mail from all kinds of people, including prison inmates. "...but they were the nice ones, they were the polite ones", she said, "the scary ones were out living on Middle America or whatever."