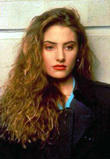 David Lynch played a pivotal role in Mädchen's development as an actress. She remembers Lynch (who gave her a pet name of "Madge-kin") fondly, calling him her teacher and observing "...he would set the stage and he would encourage you to then create and become." Of working with Lynch on the "
Twin Peaks
" set, Mädchen told television Interviewer Lauren Hutton "It was really a 'film' atmosphere where he made you feel like you had all the time in the world and if it took all day to film a scene he would take it and he would compensate someplace else.".
In connection with "
Twin Peaks
", we come to another Mädchen's surprises. In a memorable scene, Audrey Horne (played by Sherilyn Fenn) proves her occupational fitness by using her tongue and teeth to tie a knot in a cherry stem. Well, it turns out that Mädchen can actually do this!
She demonstrated her ability during an interview for the October 4, 1990 issue of "
Rolling Stone
" magazine, saying "I've been doing it for years". She offered a helpful hint, which the reader must imagine being delivered in her sweet, almost child-like voice: "You have to bite up the stem to make it limber. Bite it until it isn't stiff."
There's yet another surprise (and perhaps a bit disappointment) for those who think that such a woman must be living the fast life of a Hollywood starlet: Mädchen remains happily married to David, with whom she lives in Los Angeles along with their two children, and a dachshund named Einstein.
Mädchen does not emphasize the difficulties of nurturing an acting career. Indeed, she feels that her progress has been remarkably easy. She told the "Empire" writer "It's almost like it's never been a struggle for me. A day-to-day struggle, perhaps, but it's almost like someone's behind me, sort of pushing and guiding me the way I'm supposed to go". She credits her father with helping her place successs in perspective, saying to Lauren Hutton, "...my Dad always told me'stop and look back and appreciate what you've done; stop and smell the flowers'".
Hollywood, though, is seldom kind for very long to an actress, even one of Mädchen's haunting beauty and immense talent. Indeed, her career has had more than its fair share of setbacks and bad luck. Mädchen sees some of this as due, ironically, to her flawlessly good looks. As she told Hutton, "And so there were a lot of parts that I was attracted to, that actually had interesting things and were intelligent, they weren't seeing me as, and the parts that were being offered didn't have anything to them because they were the good-looking parts...". A lack of good scripts and the difficulty in finding challenging roles in studio films has led Mädchen, who is passionate about her art and relishes creative control, to pursue independent films.