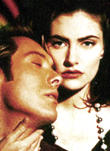 Even the eagerly-anticipated "
Twin Peaks
" movie proved to be a disappointment to Mädchen's fans. Studio pressure to reduce the length of "
Twin Peaks: Fire Walk with Me
" forced director David Lynch to drastically cut Mädchen's reprise of her role as Shelly, putting her on the big screen for less than a minute with just a few lines. It was only one of several times that the entertainment industry showed how little its understands Mädchen's talent and extraordinary appeal.
A highlight of Mädchen's film career is the 1994 feature film "
Dream Lover
", a thriller in which she co-starred with James Spader. It is one of the few films to showcase her awesome ability to portray a complex character.
Mädchen's return to network TV came in the fall of 1995, in the much-publicized CBS dramatic series "
Central Park West
". Despite her brilliant performance as the sexy and manipulative Carrie Fairchild, the series suffered from poor ratings and was pulled after only about seven episodes. The month-long eight-episode return of the show as a new and improved product called "CPW" in June 1996 (delayed from January), was poorly promoted by the network and received scant attention from viewers.
And Mädchen's future looks very bright. She has starring roles in two direct-to-video releases: the thriller "
Wounded
" (1996) and the romantic comedy "
French Exit
" (1995). She also stars "
Bombshell
", a futuristic thriller produced in 1996 by Molecular Films. A member of the production crew expects the film to become a cult hit. She appears in another video movie called "Perfect Crimes", whose status is unknown.
A few other tidbits, to add to your picture of Mädchen, or perhaps to add to the mystery: She and her father have survived the crash of a small airplane. After seeing the movie "Arachnophobia", she dreamed that her body was covered with spiders. She has stolen items - towels, glasses, a water pitcher, a set of pillows - from hotels. She was the victim of an attempted mugging while living in New York City during the taping of "
Central Park West
"; nevertheless, she feels safer in New York than in LA.
And a final surprise: Mädchen knew someone who, like Shelly Johnson, shot an abusive partner. She explained mysteriously to the Rolling Stone interviewer "I kind of based Shelly on someone I knew", and concluded "I think the guy died".
(Biography by Albert)